We would encourage you to come and visit Kingswood to see all that we have to offer to help you decide the right setting for your child.
Our Pre-School offers part time and full time places for 2 -3 year olds during school term times. You can choose the number of sessions you would like your child to attend, though we do stipulate a minimum of three, which enables your child to get to know the setting, the routines and the staff.  We offer 2 year old free funding and accept childcare vouchers.  To find out if your child is eligible for 2 year old free funding please use the following link to check your eligibility:
www.hertfordshire.gov.uk/freeearlyeducation
Please apply for a Pre-School place here:
https://docs.google.com/forms/d/1eVs-DzS5vqVevb7hP2iSXXQgABd5YHcsAXtwjaS_TVk/edit
or scan here: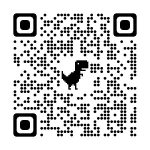 You can email us at: admin@kingswood.herts.sch.uk to check availability or please phone the school office on 01923 672531 if you require a paper copy, require support to complete the forms and/or to book a show a round.